Suddenly it's 2021, and I can report with some relief and satisfaction -
- that at least one cherished New Year's Eve tradition was observed to the letter, despite all restrictions and tier-based limitations. Yes - on the afternoon of Dec 31st I put on my sturdy Uggs and my face-mask and headed round the corner to the Jesmond Tesco's where, in anticipation of being closed on Jan 1st, their yellow label reductions were seasonally intense and deeply meaningful. We're not talking just the odd 20p off, but real we're-not-open-tomorrow price cuts that filled my basket with all the utterly unneeded comestibles that had cried out to be snaffled up. Hence crispy Chinese snacks last night and a chicken this evening and the joyous anticipation of yet again entirely rearranging the interior of my freezer in the eternal hope that the laws of physics CAN be denied if you will only compress things with sufficient determination.
One could see this as an unwise invitation for chaos to invade my kitchen (and honestly, I can't even blame the freezer pixies this time since all £7.54 of the cost was clearly paid on my own debit card). I prefer, however, with that deeper understanding born of a lifetime's justifying of my particular idiosyncrasies, to view it as a necessary restoration of the natural balance of things. Last Tuesday, in a post-Christmas flurry of activity, I went through my huge collection of infrequently worn clothes and discarded far more than I could carry, so then had to engage Chris to drive round to Gosforth Oxfam shop so that they could be immediately gifted. The shop assistant did look a mite overwhelmed, I must admit. I know from past experience that once selected for donation, things must be given away at once, or they start to creep back into that optimistic status of "I might wear it one day" and never leave the flat. I honestly doubt I shall miss any of them, least of all that large majority which had inexplicably shrunk while in storage and no longer quite fitted (now that's definitely the work of pixies, if not actual gremlins!)
So now I have a well-sifted wardrobe and what could be more essential to the equilibrium of the universe than that I should balance such unwonted organisation by introducing an overstuffed freezer? Thus is the harmony of the spheres maintained (and I get to enjoy a full Sunday dinner on a Friday.)
I do hope you all had a lovely, calm and peaceful Christmas, even if it was diminished from larger plans. Mine was characterised by an abundance of gifts, cards and messages, plus an unexpected toad in the hole. Duck breast had been planned, as a suitably scaled treat for the solitary diner, but this elegant festive dinner got put back a bit after my spirited attempt on Christmas Eve to burn down the flat. And no, the culprit was neither boredom nor drink but Dickens (a notoriously anarchistic element in any seasonal arrangements.) In a spirit of not really trying too hard since I was going to prepare a posh meal on the 25th, my dinner choice for Dec 24th was a Tesco's ready-made toad in the hole (the creation of the edible home-made Yorkshire pudding being a skill I have, to my chagrin, never reliably acquired.) No problems - just stick it in the oven, etc etc. Only I decided to make onion gravy, and so set chopped onions to sweat gently in a small saucepan with some oil, stepped into the living room for a moment while they softened, got distracted by something Dickensian on the telly and... well you can guess the rest. Honestly only out of the kitchen for a very few minutes but I've never quite got used to the speed and settings of my induction hob, and when I stepped back, dining room and kitchen were enveloped in a thick, noxious fug of throat-catching black vapour! No flames, but the contents of the pan had completely burned away and the bottom had heated up to produce these revolting metallic fumes. It was soon sorted, though the necessity of opening windows and back door didn't exactly improve the cosiness of my abode, and the pan was swiftly deposited in the back yard, where it still resides. But after that I didn't really feel like cooking anything, so I instead ate the toad next day for Christmas lunch and would have cursed Mr Dickens heartily had I not then rather enjoyed watching "The Personal History of David Copperfield" via Amazon Prime (especially Hugh Laurie and Tilda Swinton, an unexpectedly harmonious double act as Betsey Trotwood and Mr. Dick. And parts of it were shot in King's Lynn!)
After that, anything less combustible might have come as an anti-climax, but I have preferred to view the ensuing failure to burn anything to buggery rather as a delightful gift of the season, to add to all the others I was happy to receive (the Frida Kahlo cushion, the Pyscho book-mark, the bird-skull soap and the demon-head bottle full of Hot Sauce, to name but a few. And writing this reminds me that I can now set out both my "Simon's Cat" calendar and my cat-a-day photo one - always need at least two calendars as I can forget while walking from one room to another which day it is.)
Despite my current delight in dolce far niente, however, I must admit that on Boxing Day I did succumb to a rather deplorable urge for wild, unbridled excitement, and took the Metro into town to visit the sales (I think this was the third time I've ventured into the city centre since mid-March.) I had it in mind that I would find some reduced Xmas cards, a pair of boots and a small saucepan (I suspect you can guess that this last was probably the deciding factor, and though I was there only a short time, I managed to satisfactorily purchase all three things. Shops were being careful, but rather too many folk up and down Northumberland Street to make it a comfortable experience - and the noise seemed overwhelming. Still, what with this trip and yesterday in Tesco's I feel I have paid due winter tribute to the gods of commerce, and can now forget about shopping until I run out of milk (Sunday, I suspect.)
There have been many fine end-of-year greetings and jokes - Peter has sent this selection of one-liners:
The dumbest thing I ever bought was a 2020 planner.
2019: Stay away from negative people.
2020: Stay away from positive people.
The world has turned upside down. Old people are sneaking out of the house & their kids are yelling at them to stay indoors!
Every few days try your jeans on just to make sure they fit. Pajamas will have you believe all is well in the kingdom.
Does anyone know if we can take showers yet or should we just keep washing our hands?
I never thought the comment, "I wouldn't touch him/her with a barge pole" would become a national policy, but here we are!
I really need to practice social-distancing from the fridge.
I hope the weather is good tomorrow for my trip to the garden.
Never in a million years could I have imagined I would go up to a bank clerk with a mask on and ask for money.
Just to turn the calendar back a few days, Chris recommended this delightful ditty:
which reminds us that at least the UK didn't really have to engage with the "murder hornets" scare - we had Brexit instead.
Sue was very taken with this unlikely range of art work, which I feel warrants the label "deliciously decadent",
Some of you are doubtless signed up to the Next Door North Jesmond message-board where, amongst other things, people post "Lost and Found" notices. Both Peter and I spotted this one as a mite out of the ordinary: Lost false eyeball. If anyone sees a eyeball around heaton park its mine please message me, I sneezed and it fell out cannot find it anywhere!. Also this:
"Cooked crabs in the crematorium.

"Hi does anyone know why someone would lay out three, cooked brown crabs in the crematorium? Followed by some cooked prawns?"

(There was an accompanying photo of several shell-less prawns apparently scattered on the ground, but I could discern no particular occult or religious pattern to their arrangement. No photograph of the crabs was provided.)
I shall close with a rather splendid illustration of the costume and persona I plan to adopt for all public appearances during 2021:
I suspect, however, that the actual effect might end up looking rather more like this: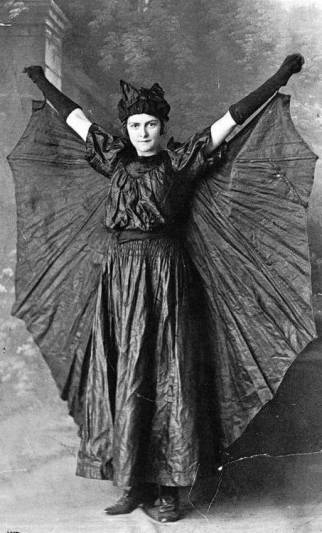 And in case anyone is worried - yes I have been ceremoniously first-footed. I nipped out of the front door, then in a duly thoughtful and portentious manner let myself back in, carrying a small lump of jet (nearest I could manage to coal and considerably less messy.) I have a feeling that somewhere in the Book of Leviticus there must lurk a serious injunction against the practice of first-footing oneself as being contrary to the laws of nature and an abomination in the eyes of God, but under the circumstances I'm sure he'll be prepared to cut me some slack.
And I managed this tricky manoeuvre without locking myself out, which HAS to be a good omen for the year to come!
Happy New Year
Gail-Nina xx
In the midst of wrestling with my more-than-usually recalcitrant email account I forgot to include the following from Alasdair, really quite a philosophical concept relating to the relationship of paintings and masked viewers - but look which picture they chose to illustrate it:
And Sue sent this really practical video about, er, talking safely:
But most of all I wanted to send you all this explosively lovely New Year's greeting, with especial thanks for all the ecards I've received, and particularly to janeandian for sending me the original link:
Best Wishes
G-N xx