Lectures at the Lit & Phil
These talks are organised by the Lit & Phil (you don't need to be a member in order to attend any of their public events), and tickets cost £4 per talk, from the Lit & Phil Library, 23 Westgate Road, Newcastle upon Tyne, NE1 1SE, in person or over the phone (0191) 232 0192. It is advisable to book seats in advance; if you reserve a ticket and are subsequently unable to attend, please let us know as we often have a waiting list.
Art talks run from 6.00 - 7.00 pm and are in the ground floor rooms (so no stairs).
Gail-Nina continues her series of triads of art lectures. As with her previous sets of three talks examining different aspects of a movement or theme in art, each one stands alone as an independent lecture, so don't worry if you can only attend one or two.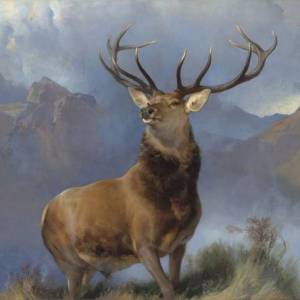 Three Victorian Parlour Favourites
Wednesday 11th October, 6.00 pm
Sir Edwin Landseer: Monarch of the Glen (Scottish National Gallery, Edinburgh)

Recently "saved for the nation", the title gives it away - Landseer's 1851 canvas shows much more than a stag at bay. A dashing piece of naturalistic painting, the work also embodies Victorian ideas about social hierarchy, the natural world and an idealised view of the Highlands. It also looks very effective on a whisky label.

Wednesday 18th October, 6.00 pm
William Frederick Yeames: And When Did You Last See Your Father?

Still a popular standby for political cartoonists, did William Yeames' 1878 scene of an (entirely fictional) incident during the English Civil War catch the Victorian imagination via its wealth of 17th century historical detail and skilful reference to the work of Van Dyck, or because it illustrated a dramatic moral dilemma? Will its upright young hero tell the truth or deliberately hide it? This talk examines the appeal of the unresolved pictorial situation and looks at Yeames' sources and career.

Wednesday 25th October, 6.00 pm
Sir John Everett Millais: Bubbles

An engaging child in period costume, a portrait of the artist's grandson, an essay in Dutch 17th century style, an allegory on the ephemeral nature of life or an advert for Pears' soap? Millais' post-Pre-Raphaelite painting Bubbles (1886), now often seen as a benchmark of Victorian sentimentality, actually fits into all these categories. This talk explores its rich and allusive heritage in terms of style, subject and its place in the painter's career.
On Wednesday 8th November, Gail-Nina will lecture on William Bell Scott and Wallington - details to follow, but put it in your diary now!
And following the sell-out success of the Paul Nash talk delivered at the Lit & Phil on September 27th, the Library has scheduled a repeat performance on Wednesday January 10th at 6.00 pm.
Talks at Newcastle Castle
As well as her fairly regular early evening public talks at the Lit & Phil library, Gail-Nina Anderson has recently begun offering illustrated lectures at Newcastle Castle, mostly on folklore and art-related themes. Booking for these is always lively, but if your chosen event is already sold out, please use the online booing service to register your interest, for the possibility of a repeat performance.
Talks take place in the Black Gate, which has a lift and is fully accessible to wheelchair users. Refreshments - including tea and coffee - will be available to purchase at events.
Friday October 20th, 6.00 - 7.00 pm
Visible Ghosts: What does a ghost look like and how have they been shown through the centuries?

Friday October 27th, 6.00 - 7.00 pm
Halloween - the Changing Traditions of an Ancient Festival

Friday November 17th, 6.00 - 7.00 pm
Angels and Demons - A Pictorial History

Friday December 8th, 6.00 - 7.00 pm
Santa and his Minions - the Darker Side of Jolly