Apologies for brief break in transmission (and thanks to Isabel for gentle hint!)
No, nothing untoward has happened (apart from a plumbing emergency in the downstairs flat, whose temporarily blocked toilet unfortunately empties - or not - into a covered drain in my back yard. Getting this sorted involved three different levels of plumbing services attending in rapid sequence, and was only put right by the level 3 chap who turned up in what appeared to be full hazmat gear. We'll draw a discreet veil over the finer details, but the fact that all attempts to deal with the drain took place in the pouring rain didn't much add to the wholesomeness of the scenario.) It's simply that the days have tended to merge, flowing together into one indistinguishable stream of domestic trivia that hasn't given me much of a handle on epistolary originality.
So there I was, about to headline this riveting account with the thought that when carefully decanting an open bag of flour into storage jars for better preservation, it really is a good idea to label them with the vital distinction between "plain" and "self-raising". I have two large jars of anonymous flour (the third variant, "strong" being still in its bag as I haven't yet acted on the mad impulse to bake my own bread) - is there any way to tell the difference, short of making very flat cakes?
But Lo! (as Charles Fort so eloquently expressed it) Suddenly I have a piece of news, both good and unexpected. After several months Lilith the snake has turned up again, live and apparently well, having presumably been feeding on whatever lives in the walls of Chris's house. She had last been spotted (but not recaptured) in the dining room but reappeared a floor higher in the bath room where any escape attempts were cunningly foiled by the simple expedient of throwing a tee-shirt over her (a handy tip should you ever be approached by an unexpected snake when you happen to be carrying a tee-shirt. I imagine other items of clothing might effectively be substituted in this alarming situation.) She is now fed and in residence in a storage box, Chris and Tom having unfortunately abandoned hope of seeing her again and dismantled the nicely-decorated vivarium in which she formerly resided. I think, though, that the prospect of her wandering around the house has somewhat unnerved them and they would be happy to find her a new home. So (seriously) if anyone would like a corn snake she's yours for the asking, just so long as you can look after her. If you live locally she could be collected from Jesmond or delivery might be possible depending on the current state of the tyres on Chris's van. Perfect Xmas gift for anyone one of a herpetological bent.
And talking of Christmas - Fenwick (current slogan "Staying In is the New Going Out") are advertising their new range of Christmas decorations, including bauble-headed ladies sporting various different fashion looks. Very chic, great fun, £40 a pop! Mind you, if you shop on-line you can get a really on-trend Santa bauble much cheaper.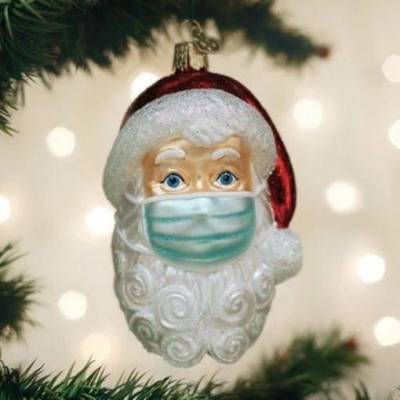 Randy Rainbow delights us with another song for the election, joined by one of the great Sondheim divas, Patti LuPone (who I once saw live on stage singing that Sondheim signature song, "The Ladies Who Lunch". Nearly brought the theatre down!)
You might not know the source for this duet - it's "If Momma was Married" from "Gypsy" so I'm adding a link to the 1962 movie version starring Natalie Wood as Louise and Ann Jillian as Baby June. This kinda makes sense of Randy R. suddenly turning up in a Baby June style outfit during his own song!
A little goody recommended by Jean - under the title "Scenes for Survival" the National Theatre of Scotland has commissioned and recorded some short monologue pieces, including one by Ian Rankin which has the ageing Detective Inspector Rebus (played by Brian Cox) reflecting on his response to lock-down. Of course, my favourite is the hilarious take on the young Aleister Crowley trying to raise the devil under uncomfortable conditions at Boleskine Manor - but you'd have guessed that, wouldn't you?
Sue points out that Sunderland Museum has an exhibition, until November 15th, centred round five paintings of castles on loan from the National Gallery. If it's not convenient to go, you can see the paintings and information on their site.
Sue also offers this brief but oddly comforting gem, extracted from the Society of Antiquaries Newsletter: "Listen to Simon Russell Beale FSA put his acting credentials to the test on Radio 4's Broadcasting House (11 October, 41 minutes in), by reading out of a list of biscuits. He starts with Bath Oliver - whose production has been suspended, apparently due to something to do with Covid-19 - and ends with Jammy Dodger."
And Heather has found yet another variation on the Discobolus:
Meanwhile, no doubt acting on the magnetic appeal that displays of vegetables always seem to have for me, Jean has not only been exchanging 17th century Metaphysical verses on the theme, but has also recommended the art of Ursula Vernon, where veg populate their own version of the animal kingdom. They also come with natty wild-life documentary descriptions:
A traveller across the Serenghetti, coming to a river crossing in the heat of the day, may well find themself captivated by one of nature's most magnificent sights. Roots held high, horns gleaming in the sun, leafy tails trailing in the water and red flanks glistening with sweat and dust, the vegetables pass in a small herd, crossing the river at the shallowest point. Largest of the vegelope family, capable of standing off a pride of onions, wildebeets at the ford.
And I shall close with an optimistic Halloween pumpkin design, plus the happy thought (from "Woman's Hour") that with all the Zooming and Skypeing that currently concentrates fashion interest on the upper torso, padded shoulders are coming back into vogue. Don't have a ready image for this, so in a mood of wild side-stepping the issue I'm attaching instead a really jolly advert (vintage unknown) for chaps' attire that would make any party go with a swing. I just love the mood it evokes of snazzy young blokes getting high on the very latest in musical/fashion trends - the one on the left reminds me of a young Bob Monkhouse!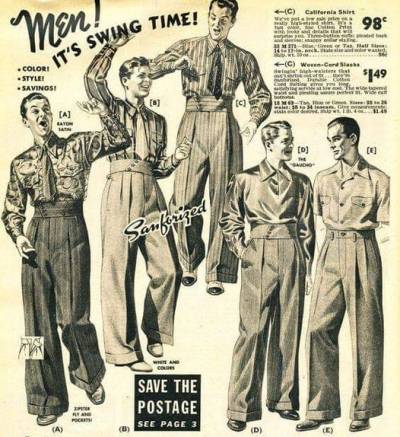 Promise not to leave it so long before the next missive, even if I have to weave it from the slightest gossamer threads of imperceptible daily variations.
As Paperchase are currently saying in their seasonal advertising, Spread Joy from a Safe Distance,
Gail-Nina xx