The Festive Season - and beyond!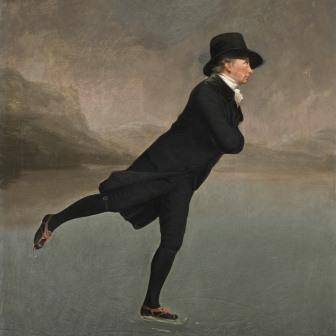 A Cleric on Ice - Raeburn's Skater and its Artistic Tradition
For a Christmas lecture with a twist, not to mention a loop and a glide, Gail-Nina's lecture on Wednesday December 12th, at 6.00 pm,will examine the way skating (or at least, staying upright on the ice) has been represented in art as a lively symbol of seasonal activity.
Raeburn's famous portrait of The Skating Minister will be discussed in detail, along with all those other images that combine wintry weather with the apparently effortless skill of negotiating a slippery surface, from Breughel's Flemish peasants through 18th century French elegance to the unlikely glamour generated by the tourist industry.
Phantoms at the Phil
Gail-Nina opens the new year in traditional style on Thursday January 3rd with Phantoms at the Phil. It's that time of year when nightmares of turkey and sprouts are beginning to fade, inexplicable gifts have gone to the charity shop and the tinsel can be laid to rest. Don't relax too soon, though - the nights are still dark and those icy tendrils on your window-pane could herald something more sinister than Jack Frost... Time for another evening of specially written spooky stories from Sean O'Brien and Gail-Nina Anderson along with guest author Mark Valentine, master of the seriously strange tale.
Three aspects of Burne-Jones
Thereafter, her first triad of art lectures looks at the work of a single artist, Pre-Raphaelite painter Edward Burne-Jones (a major exhibition of whose art is running at Tate Britain, October 2018 - February 24th 2019).
Details of all lectures on the Talks and Lectures page.
Last update: 8th November 2018.